[ From a Press Release ]
Trends come and go so quickly it's sometimes hard to know what's hot. But rather than have someone tell you, why not help set the trends?
style spy (
http://www.stylespy.net
) is the latest and most unique development in social trend-spotting. A simple-to-use and highly visual application, style spy gives you the opportunity to vote on and discuss what's hot – helping to shape trends – as well as being up to date with what's in and what's out.
"style spy is so simple, it's fun to use and we're continually working to make it better," says Allan Barger, 22, one of style spy's creators.
Unlike social bookmarking, style spy is all about charting what's hot. Trends quickly emerge as items sink or swim depending on votes from users. Content on style spy ranges from clothing and accessories to cool new gadgets, established brands to upcoming talent.
As well as being a trend bible for consumers, style spy is also a perfect tool for upcoming fashion designers and labels to promote their wares and bring their designs to the attention of a wider audience.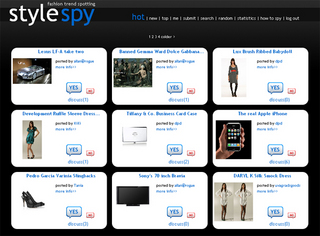 If you like this please follow me and I'll follow you back :) Thank you.